The Night Between
The Night Between resembles a metaphysical muse: giving expression to themes of existential angst, while exploring the continuity of change and the delicate balance between opposites.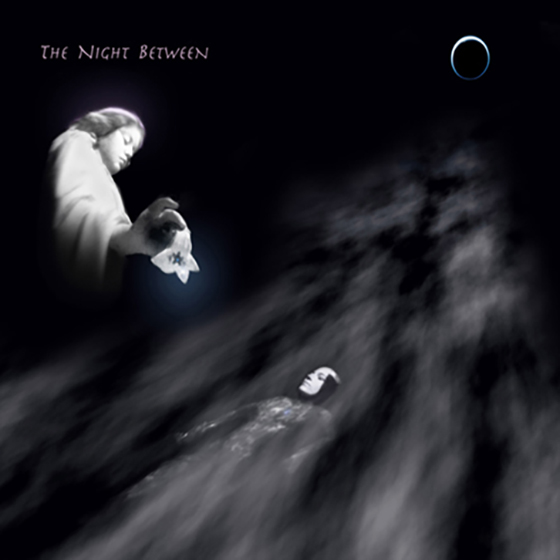 Recorded in a variety of locations, including Amsterdam, London and a remote cabin in Washington State; one can hear a melding of flavour and spirit from a cast of fine musicians. At the same time, illustrated throughout this theme, is a progression loosely intended to carry the listener from the opening chords to the closing notes.
MUSICIANS
Ah, this is nice... lots of improvising.
Michael Manring does it so fluidly with his unique style of fretless bass playing, as does the versatile Michael Moore, whilst speaking through various reeds (alto saxophone, Bb and bass clarinets).
Familiar faces of Simon McCarty (djembe, bougarabou), Chad Quist (electric guitar) and Jim Eagan (drums) return to further enrich the palette, along with steadfast support from Carl Dexter (guitars, harmonium, contrabass, tamboura and dumbek).
Ernst Glerum (contrabass), Harald Austbø (cello) and Storm Watson (fiddles, djembe, pota) selectively add their creative touches to the mix. Steven Byron Bentley's expressive drum energy and the eerie Tuvan throat singing and jews harp playing of Marhzimal Ondar completes the theme.
Similar to Sohre's other CD's, you'll hear her voice in several instruments.
PRODUCTION
Chris Sohre composed, arranged and produced this recording for her independent label, Fleeting Echoes Ltd.
Carl Dexter comes back onboard, co-producing with John Herchenrider (sound engineer) and Marty Eigenberger (photographer/writer) - both long-time collaborators and advisors in Sohre's projects.
Additional tracks, final mixdown and mastering were Dexterized at DreamKitchen Studio by Carl.
Marty Eigenberger created the cover shot, as well as providing graphics for the CD booklet. Back cover photo was taken by Sohre.
The Night Between is an eco-friendly digipak CD with full colour 8-panel deluxe insert with lyrics, and printed with soy-based inks.
See detailed Credits & Audio Samples for all songs.